The Secret Teachings of All Ages
An Encyclopedic Outline of Masonic, Hermetic, Qabbalistic and Rosicrucian Symbolical Philosophy
by Manly Palmer Hall
---
Twenty-five Centuries of Wisdom
Discover the Secrets within the Symbolic Figures, Allegories, Oral Traditions and Rituals of Humankind.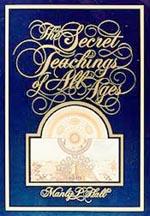 Manly P. Hall's exhaustive research concentrates the teachings of nearly six hundred distinguished authorities on religion and philosophy, bringing to you an interpretation of the themes underlying the ancient mythology, philosophy, religion, rituals, and arcane mysteries of all ages. In its original format designed by J. Henry Nash, this unique volume can be treasured and passed on as an heirloom with the assurance that its in-depth studies of some forty ancient and modern systems of spiritual development can contribute to each to each individual's quest for self-knowledge and philosophical awareness.
"A masterful summation of the esoteric teachings of the ages."
—Huston Smith, Ph.D., Author, The Worlds Religions
"Into this volume has been compressed the quintessence of a colossal learning. It is a living human document, pulsating with the mental and spiritual vibrations of a profound thinker who takes knowledge for his province and reduces whole libraries to a single tome."—George Barron, Curator of the De Young Museum of San Francisco
"Simply put, this is the most beautiful and complete occult book ever published. It represents a lifetime of research into the mythology, symbolism, and magical practices of countless cultures. From the secrets of Isis to the teachings of mystic Christianity, nearly every occult dogma imaginable is represented here…this is the definitive guide to secret societies, famous figures, and more—a must for every personal library."—Llewellyn New Times
"Manly Hall's great work is a classic in the world's literature. It will guide historians, philosophers, and lay seekers of esoteric wisdom for centuries."—Edgar Mitchell, Sc.D., Apollo 14 Astronaut
AVAILABLE IN FIVE VERSIONS:

Diamond Jubilee Edition

Folio size, 12.3" x 18.2", 254 pages plus 54 symbolic color plates, foldouts, and an overlay. Includes 200 black and white illustrations, extensive bibliography, and complete index.

ISBN: 0-89314-546-7 $185.00 Hardback with slipcase

Collector's Diamond Jubilee Edition

Limited to 250 copies, featuring a parchment page at the front of this edition signed by Manly P. Hall. Slip-cased with gilt-edges. (For an additional $15, it can be customized with the recipient's name hand-printed by a calligrapher—No returns accepted on personalized editions).

ISBN: 0-89314-9999 $500.00 Hardback with slipcase

Reduced Size Hardback

9" x 13", 254 pages plus 54 symbolic color plates, foldouts and an overlay. Includes 200 black and white illustrations, extensive bibliography, and complete index.

ISBN: 0-89314-548-3 $69.95 Hardback

REDUCED SIZE PAPERBACK

9" x 13", 254 pages plus 54 symbolic color plates, foldouts and an overlay. Includes 200 black and white illustrations, extensive bibliography, and complete index.

ISBN: 0-89314-830-X $54.95 Trade Paperback

READER'S EDITION

Published under license by Tarcher/Penguin

A classic since 1928, this masterly encyclopedia of ancient mythology, ritual, symbolism, and the arcane mysteries of the ages is now available in a compact, "Reader's Edition."

For the first time, the complete text of Hall's celebrated classic has been reformatted and redesigned for ease and accessibility of the reading experience. This edition features Hall's original index and bibliography. Includes 16 full color plates and 100 black and white illustrations.

6" x 9.25", 750 pages.

ISBN: 1-58542-250-9 $24.95

Trade Paperback
Be sure to check out the Companion Volume to The Secret Teachings of All Ages, Manly P. Hall's Lectures on Ancient Philosophy
— available in a paperback - published for PRS by Tarcher/Penguin.
THE SECRET TEACHINGS OF ALL AGES
... Associations of men and women bound together by oaths and obligations into esoteric fraternities have descended from the earliest times and bear witness to a natural inclination to perpetuate doctrines which lead to the good of mankind.
With the growth of social consciousness, these secret societies became the custodians of the highest cultural concepts. Their initiation rites were symbolic pageantries suitable to inspire veneration for the Divine Mysteries, and admiration for the powers of nature and God. Most of they mythologies of classical nations were originally rituals of secret societies, and it is a mistake to assume that earlier cultures accepted as literal the elaborate theology and legendry found in their traditions.
Historically the secret societies were closely identified with state religions. Basic knowledge was believed to have been bestowed by the gods in a remote age. The esoteric philosophies have always been taught by means of secret organizations, to which candidates were admitted only after appropriate preparation and initiatory rites. These spiritual brotherhoods of scholars, sages, and mystics have flourished among all peoples, ancient and modern, and in all parts of the world.
In the program of the Mysteries each individual must grow into the comprehension of truth. Before he could be entrusted with the divine powers of mind and will, he must accept knowledge as a responsibility to his Creator and his world, rather than as an opportunity for the advancement of personal ambitions. The masters of the Mysteries taught secret practices and disciplines by which the properly qualified disciples could develop the potent abilities latent within the soul, and so, come into conscious communication with spiritual realities.
Initiates of the philosophical societies came to be regarded as possessing extraordinary faculties and powers. They enjoyed the special favor of the divinities, performed miracles, and were worthy of the title "Twice-Born", for they had come to second birth from the womb of the Mysteries. These adept-philosophers were the truly evolved human beings. Most of the arts and sciences which enriched the modern world were discovered, developed, and in many instances perfected by these initiate philosophers and priests ...
... This volume reveals that the lore and legendry of the world, the scriptures and sacred books, and the great philosophical systems all tell the same story. Human ambition may produce the tyrant; divine aspiration will produce the adept. This then, seems to me to be the significant message of Manly P. Hall's encyclopedic tome.
—Henry L. Drake, The Philosophical Research Society
Click Here to Order Books Published by PRS
---
Next: Preface